Lil Wayne has built a skate park in New Orleans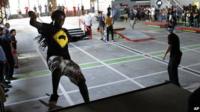 Lil Wayne's built a skate park in Lower 9th Ward, New Orleans, one of the areas of the city left devastated by Hurricane Katrina.
"I just want to help out my city, help out the people and the kids."
The storm in 2005, one of deadliest in American history, killed more than 1,800 people and left hundreds of thousands of residents homeless.
It's after levees, designed to stop flooding, were destroyed by the tropical storm.
"I wanted to give them something to do, something they haven't done before," he said.
The rapper, who grew up near to where the park is situated, took up the sport 18 months ago.
"I thought it would be just a hobby, and I thought only people with skills can do it.
"When you finally get into it and you learn to like it, you'll quickly learn to love it. It's more than just four wheels and a piece of wood."
Last year Lil Wayne, who signed Nicki Minaj and Drake to his Young Money record label, needed treatment after a skateboarding accident.
The 30-year-old needed nine stitches after falling off his board and hitting his head.
In 2010 the rapper served eight months in Rikers Island jail in New York for possession of a hand gun.