Nicki Minaj and Mariah Carey snapped up by Channel 5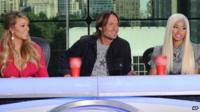 Channel 5 has announced it's acquired the rights to show the new series of American Idol.
The US talent show, which has been running for 12 years, will be shown on the station's digital channel 5* next year.
Earlier this month rapper Nicki Minaj and singer Mariah Carey signed deals to become judges on the programme.
The singing contest, backed by Simon Cowell, was previously shown on ITV2 in the UK.
A statement from Channel 5 read: "American Idol is immense.
"We believe it's going to be a defining show for 5* building on an already impressive schedule."
Music manager Randy Jackson and country singer Keith Urban complete the judging line-up.
For the past nine years American Idol has been the most watched entertainment programme in the USA with a peak audience of 21.9m viewers.
Kelly Clarkson and Jordin Sparks are former winners of the show, also known as Idol, which helped launch the recording career of Oscar-award-winning actress Jennifer Hudson.
American Idol will be shown on 5* from 13 January 2013.