Swedish House Mafia refuse to rule out reunion
26 September 2012

From the section

Music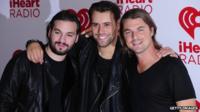 Swedish House Mafia have refused to rule out getting back together after their planned split, saying "who knows what the future brings".
Band member Axwell told Newsbeat: "It's too early to say. We still have to hang out with each other for a few months."
They recently released details of their farewell tour, which includes 26 gigs around the world starting in November in Dubai.
The group will play their final show in Los Angeles on 9 March 2013.
Axwell, who is joined in the group by DJs Steve Angello and Sebastian Ingrosso, said the tour will be an "experiment" to see if they will ever be able to get back together.
He said the trio would remain on good terms after their separation.
"We're not gone," he said. "We're going to be doing songs individually. It's not an end situation like that."
Axwell also told Newsbeat he didn't believe the band will leave a lasting musical legacy.
"I'm not sure there will be any legacy for us these days as dance music moves so fast making it hard for any artist," he said.
'Creative freedom'
In July the group played their last UK gig at Milton Keynes Bowl in front of 65,000 people.
Their final single Don't You Worry Child was shot at the venue during the gig.
Talking about the future the DJ said they needed a break from touring and producing.
He said: "I don't know what's next. We've always known what was going to be next.
"It's nice to think that it gives us some creative freedom."
The group formed in 2008 and released their debut compilation album, Until One, in 2010. Their second record, Until Now, is out next month.