JLS star: Fame makes caring for MS mum tougher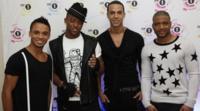 JLS star Oritse Williams says becoming a celebrity has made it harder to care for his mother, who has multiple sclerosis.
"I'm constantly calling nurses and carers to find out how mum is," he says.
He says there is barely time "just to have a simple conversation on the phone".
He says it is very different from when he was 11 and his mother's main carer.
"I was with my mum every single day," he says. "I knew what was happening because I was in control of it."
Oritse tells his story for Keeping Mum, a documentary being broadcast on Radio 1 tonight (8 October) at 9pm.
"It went from my mum being able to walk me to school every single day, to me having to hold onto her to help her to walk," he says.
"I was helping her bathe and go to the bathroom."
'Neglected'
Alongside Oritse in Keeping Mum, Radio 1 listeners share their stories of life as part of what's been called Britain's "hidden and neglected army" of young adult carers.
Eighteen-year-old Pippa Haines from Southampton won a Radio 1 Teen Award last year for looking after her disabled mum, her sister - who has mental health problems - and her autistic nephew.
She says her responsibilities sometimes feel too much to bear.
"There's been days when I've sat there and gone 'I wonder what it would be like to be at the bottom of that bridge, flat from jumping off.'"
Nineteen-year-old carer Carwyn James from Pembrokeshire says he feels "guilty" for taking time off caring to see friends or play rugby.
Meanwhile, 18-year-old Shani Brathwaite says she was scared to go to university and leave her clinically depressed mother at home in Bedford.
Sam Pearson, who is 17 and from Norfolk, quit college to focus on caring and holding down a paid job to help pay household bills.
'Stronger'
Carina Andrews, 19, set up her support group in Bristol after finding there was no dedicated local service for carers aged 18 to 24.
"Along with the issues all young adults face, like university, jobs, building relationships, moving house, you've got caring added onto that," says Carina.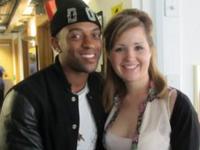 But 21-year-old Rebekah Clark says that caring for her disabled sister has made her "more independent and stronger".
Oritse agrees: "Your life experiences are the making of you.
"The obstacles that were put in front of me set me up for life.
"I've had to look after my mother in the way that a parent would look after their child.
"That is the key to the person I am today."
Radio 1 Stories: Keeping Mum is on Radio 1 tonight at 9pm. Tweet @BBCR1 #keepingmum