The Valleys cast say critics of MTV show are 'jealous'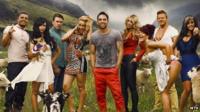 The cast of MTV's new reality show, The Valleys, say that criticism of the programme is unfounded and that people are "jealous" of them.
The show starts on MTV on Tuesday (25 September) and has been attacked by politicians and celebrities.
But the cast say that they are targeting a young audience, who they think will enjoy the show.
"It's not for old people, for nanas and stuff," said Nicole Morris, who is lifting her dress in publicity shots.
"If you've got a bum like me, let me tell you, it's banging, so get it out. You're not going to get it out when it's wrinkly."
Drunken behaviour
Liam Powell added: "There's a target audience that MTV are aiming for and hopefully we will make them happy."
He describes himself as "the only gay in the village" on the programme's website.
The show features nine young Welsh people who move to Cardiff to develop their careers, under the guidance of two mentors.
Like Geordie Shore, another MTV reality programme that was criticised when it launched, the cast all share a house.
The first episode sees some of the cast falling over in a nightclub, kissing each other and getting into the shower naked together.
Powell say she is not afraid of the bad press that they have already received before the programme has aired.
"We love a bit of controversy," said Nicole.
'Horrific representation'
Singer Charlotte Church has already tweeted her criticism of the programme.
"I won't be watching as I think it will be exploitative and a horrific representation of the country that I love," she said.
MP for Rhondda Chris Bryant believes that the MTV show gives an unfair representation of the area and makes the problems there worse.
"The silicone-enhanced, Botox-reduced, steroid-assisted, collagen-plumped self-image that these programmes project, with their low-cut tops exposing inches of breast flesh, heavy guns and heavier drinking perpetuates all the worst social problems we have," he said.
A campaign group, called The Valleys are Here, has also been formed to counter what it says are "negative views of The Valleys".
AK is one of the mentors in the show and says that the cast are being judged harshly.
"They're kids having fun," she said. "I'm 31. At 16, 17, I got my bum out, flashed my boobs, who hasn't?
"If they haven't, they're boring. Life's about being kids, living life and having fun.
"They're having fun and they're working hard. So what if there's bum flashing. They're jealous."
The Valleys starts on MTV at 10pm on Tuesday 25 September.