Green Day lead singer smashes guitar on stage in Vegas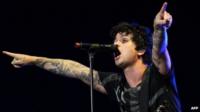 Green Day ended their set at a festival in Las Vegas on Sunday (23 September) with a dramatic outburst, after a sign appeared saying they had one minute left to perform.
When lead singer Billie Joe Armstrong saw the digital notice flash up he abandoned singing Basket Case before starting an angry rant.
Green Day were playing on the first day of the iHeartRadio Festival.
Other artists who played that day included Usher and Swedish House Mafia.
Rihanna was scheduled to close the first night of the two-day festival with Calvin Harris, Ne-Yo, Taylor Swift and Pitbull all on the line-up for the second day.
One minute left
It's reported Green Day, who have sold 65 million records worldwide, had their set time cut from 45 minutes to 25, though festival organisers deny this.
Billie Joe swore repeatedly, calling the situation a joke. He said "one minute left" again and again.
The singer told the crowd he wasn't Justin Bieber and that he had been around since 1988.
He finally hurled his guitar against the stage floor, then stormed off saying "we'll be back".
Shortly afterwards Justin Bieber posted a video of Green Day on Twitter.
The iHeartradio's festival's Twitter account posted pictures of Billie Joe smashing his guitar on the stage.
A spokesperson for the festival told Newsbeat that Green Day's set wasn't cut short and after his set Billie Joe was "pumped and laughing backstage.
He said: "He was putting on a show. That's what punk rock is all about and the fans loved it."
The punk rock trio had posted on their website beforehand that they were 'ready to blow the roof off' at the festival.