Cosmetic surgeons want a ban of ads aimed at under-18s
20 September 2012

From the section

Health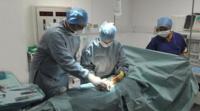 Cosmetic surgery adverts aimed at under-18s should be banned according to the British Association of Aesthetic Plastic Surgeons (Baaps).
It says vulnerable people, especially the young, need to be protected from feeling pressured into having surgery.
The Department of Health is currently reviewing the regulations around cosmetic surgery.
Twelve recommendations have been sent to advertising regulator, the Committee of Advertising Practice, to consider.
Baaps says it would prefer a complete ban on cosmetic surgery advertising, but that its recommendations are the "bare minimum" needed to protect the public.
Special offers
"What we are talking about is [banning] advertising which encourages this group of people who are at a very tender age to go through a life changing surgical procedure," says Fazel Fatah, President of Baaps.
The recommendations include banning the use of spokespeople, such as celebrities, who might appeal to under-18s.
Baaps also wants to ban all discounted and special offers for surgery, including buy-one-get-one-free and money off vouchers.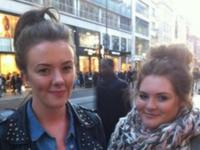 It also wants to stop photos being used if they employ techniques like Photoshop editing to give "unrealistic expectations".
The recommendations follow the removal of an advert promoting slimming surgery from daytime TV.
Slimming adverts are already banned from children's programming but it's the first time that it's been done with a cosmetic surgery advert.
Sarah Allsopp and Bex Talbot, both 19, say there's a lot of pressure on young people to look good.
"When you're looking through magazines, you get to the back of the book and it's like 'have plastic surgery'."
They both say they knew people at school who wanted cosmetic surgery
"I had a friend who wanted a boob job," says Sarah.
"She was always really worried about them being small and not as big as other people's."
Bex said she had a friend who wanted a nose job.
"She talked about it all the time and was saving for it.
"She even asked her parents for money but they said no because they didn't want her to have it."
Earlier this year, a report by MPs called for a separate code of advertising for cosmetic surgery and said girls as young as five were worrying about their size and appearance.