Gangnam Style the UK's first K-pop number one
1 October 2012

From the section

Music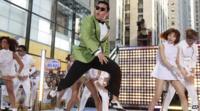 Chances are by now you'll either have seen, or know someone who has seen, the video for Psy's track Gangnam Style.
That's because since its release in mid-July it's been clicked on more than 220 million times. Right now, it's racking up an average of 10 million new views each day.
It's a colourful, over-the-top, hilarious pastiche of commercial pop videos and sees Psy debut his now internationally famous "horse riding dance".
Back home in South Korea, 34-year-old Psy, is already an established artist. Six albums into his career, he's been singing for 12 years.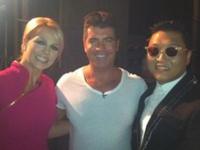 But for this latest release he decided to poke fun at an affluent and fashionable district in Korean capital city Seoul - Gangnam.
Psy likens Gangnam, which translated means "south of the river", to Los Angeles celebrity hot spot Beverly Hills - you get the idea.
The song is said to poke fun at Korea's "love/hate relationship" with the area.
Back in the summer it was an instant hit in Korea, topping the singles chart. Now it's gone international reaching number one in Finland, Latvia and Malaysia. His sights are now firmly set on America and the UK.
Bieber connection
Earlier this month Psy - whose real name is Park Jae-Sang - announced he was joining forces with Justin Bieber's management team, led by Scooter Braun.
"We've come to an agreement to make history together," Braun said in a video posted online. "To be the first Korean artist to break a big record in the United States."
That connection handed Psy an invite to the MTV Video Music Awards in LA. Appearances on a number of prime time US TV shows soon followed.
He turned up on Ellen DeGeneres' talk show and attempted to teach Britney Spears his Gangnam Style dance moves.
Simon Cowell, also a guest on the show, sat back and boomed: "It's brilliant. I love it. Amazing."
Tom Cruise, Katy Perry, Robbie Williams, Nelly Furtado and James Corden have also declared their love of Gangnam Style.
Indeed, the video's inspired parody versions from everyone from a group of LA lifeguards to the US navy.
Chart history?
Psy joked about his new international profile during an interview with Radio 1's Scott Mills.
"People don't recognise me without my sunglasses yet," he laughed. "I can't take off the sunglasses all day long."
He also explained the dance: "When you dance you've got to think you're riding an invisible horse in your lower body.
"This is the point of the Gangnam Style - dress classy and dance cheesy.
"If I have number one in UK - I promise I'll be there as soon as I can," he said. "I'll bring Gangnam Style."