Racism in football 'still a problem': Your comments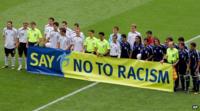 Racism is still a "significant problem" in British football according to a report by a group of MPs.
The issue has been in the news recently with claims of racism made against high profile players.
The Culture, Media and Sport committee report says there have been huge changes since the 70s and 80s - but that more still needs to be done.
It also says that homophobia may now be the most common type of discrimination.
The FA says it agrees that "challenges remain" and that it will consider the MPs' recommendations.
Here are some of your Facebook messages and tweets on the subject.
Jack - I have attended hundreds of football matches over the last decade and have never encountered racism on the terraces. It appears the players still have a problem, however.
Louise - I have never experienced racism when I have attended football matches, but I have experienced anti-Semitism at Spurs matches. However, these incidents are few and far between. Generally, I would say that football fans are just the same as any other cross section of society - you will find the odd idiot in any large group of people.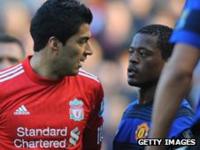 Dean - There will always be racism in football - in the same way there is always bullying in schools - no matter how much people try to block it out or prevent it.
Sam, via Twitter - It's not a problem collectively anymore, I think individuals need to be punished harder.
George, via Twitter - I think that racism has always been a problem and is now becoming more prominent because of media coverage. It's time to change!
Jake, via Twitter - It's a problem in grass roots and lower leagues. Begin there and work up. Sadly there will always be a small minority.
Rick - There's never an excuse for racism. The only way to crack down on it is to give any fan shouting racist remarks at players a lifetime ban from attending games.
Stuart - I go to a few Premier League matches every season. Not once have I come across racism.
Daniel - Fifa are just stalling because they don't know what to do. They do a campaign with rubber bracelets and think it's over. Rubber bands don't help.
Darren - It's not just football, it's a big problem in the UK. A lot of ignorant outdated attitudes from both sides, people judging and stereotyping other races on the actions of a stupid vocal minority. As a British man of Jamaican descent, I experience racism or stereotyping every day.