Robbie Williams' wife has given birth to a daughter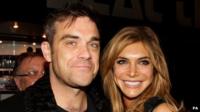 Robbie Williams has announced that he is now a dad.
The 38-year-old singer has become a father for the first time after Theodora Rose Williams was born yesterday.
He used Twitter to tell fans that his wife, Ayda Field, had given birth to their daughter.
On his blog he added: "Praise be, it's Theodora Rose Williams, affectionately known as Teddy... Born 3.33pm on 18.9.12, 7lbs 4oz.
"Baby, Mummy and Daddy are all rockin...Thank you for your best wishes."
Gary Barlow tweeted a message to the couple: "Massive congrats Rob and Ayda. So happy for you."
Williams had previously said that he and Field planned to use a traditional name for their daughter.
"No mad celebrity baby name. It's not Appleesque. It's a very solid, old-school name."
The ex-Take That star was worried that he may miss the London birth while being on tour around the rest of the UK but confirmed he had a private jet on standby.
He has stated that he wants to raise his daughter in the UK rather than in LA where he and his Turkish-American wife live.
"I don't want to educate our baby in LA because I would much prefer her to have English sensibilities.
"I want the baby to have an English passport, we're still figuring out exactly whereabouts the baby is going to be brought up.
Williams and Field have been in a relationship for five years and married two years ago.
His new album was recorded in Los Angeles with producer Jacknife Lee and features an orchestra on some tracks.
The 38-year-old has sold more than 60 million albums during his solo career.