Lady Gaga offers fan a job on her creative team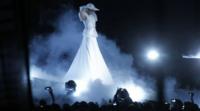 Lady Gaga has offered a fan a job on her creative team after the singer spotted a portrait designed by the student.
The 26-year-old star liked the designs by Helen Green so much that she asked her 29 million Twitter followers to help track her down.
The singer even made one of the pictures her wallpaper on the site.
The 20-year-old was invited to Gaga's Born This Way Ball in Twickenham, south-west London, on Sunday.
The pair then met backstage at the show.
Lady Gaga tweeted before the concert: "Welcome to the Haus of Gaga my angel of an artist.
"The first Little Monster to become part of Haus collective. See u soon!"
Helen Green replied: "I didn't think my work would eventually create impact like this... I am seriously honoured.
"Lady Gaga, thank you so much."