Chris Moyles presents his last Radio 1 breakfast show
A "proud" Chris Moyles has broadcast his final Radio 1 breakfast show after eight years in charge of mornings.
The 38-year-old has been presenting the show since 2004 and will be replaced by one of the station's current DJs, Nick Grimshaw.
As the programme opened Moyles shared his feelings about his team and their achievements.
He told listeners: "We just got through all of it and here we all are celebrating us and I'm really proud."
"Thank you to everyone who has listened and supported us," Moyles added.
The team were also being discussed on Twitter, with Chris Moyles and #ByeChris among the top trending topics in the UK.
Chris Moyles is still contracted to Radio 1 until 2014 after signing a new two and a half year deal last July.
However, there's so far been no announcement about his future role.
The DJ's penultimate show [13 September] was broadcast in front of a live studio audience of nearly 200 people and featured guests including Gary Barlow and James Corden.
MPs have also praised the broadcaster, with Conservative member Thérèse Coffey tabling a Commons' motion thanking the DJ and his team "for bringing much joy to the nation".
Going younger
Chris Moyles' departure follows pressure on Radio 1 controller Ben Cooper to make the station's audience younger.
In June, the BBC's governing body - the BBC Trust - found that Radio 1 still needed to attract more people under 30 years old.
That followed a review in 2009 which said Radio 1 should focus on serving 15 to 29-year-olds.
Announcing Chris' departure in July 2012, Ben Cooper paid tribute to the DJ: "I'd like to thank Chris. Quite simply he's been the most successful breakfast show host in Radio 1 history."
Chris Moyles' successor Nick Grimshaw presents a night-time show on Radio 1 between 10pm and midnight on Sundays to Thursdays.
The 27-year-old has been presenting it since June 2009.
Before that, he was the host of weekend breakfast and has also presented TV shows on BBC Two for Radio 1's former teen programming strand Switch.
Controversies
According to latest official radio figures, The Chris Moyles Show has 6.93 million listeners, half a million fewer than the same time last year.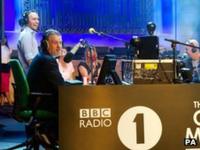 Radio 1's overall audience increased from 9.73 million in 2004 when the Moyles show started, to a high of 11.82 million in 2010.
It hasn't all been plain sailing though.
In September 2010, the DJ launched an on-air tirade against the BBC, claiming he had not been paid for two months.
The discussion about his salary lasted around 25 minutes and included an appeal to the BBC's director general, Mark Thompson, to sort the situation out.
He also revealed on air in 2009 that he'd taken a 20% pay cut because of cost-cutting at the BBC.
Record breaker
The DJ became Radio 1's longest-serving breakfast presenter in September 2009, breaking the record previously set by Tony Blackburn.
The self-styled "saviour of Radio 1" joined the station as early breakfast presenter in 1997 before taking over the main afternoon show in October 1998.
He then took over from Sara Cox on the breakfast show in January 2004.
The Chris Moyles Show has won two Sony golds, described by many as the Oscars of the UK radio industry.
In March 2011, he broadcast a 52-hour show which broke the record for the longest-ever radio broadcast and raised £2.4million for Comic Relief, although that record has since been broken again.
Chris Moyles is now set to play King Herod in a UK tour of Lord Andrew Lloyd Webber musical Jesus Christ Superstar starting on 21 September.