Plan B hopes for his 'Dizzee Rascal' moment at Mercurys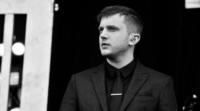 Plan B says he's hoping to replicate Dizzee Rascal's success after being nominated for the Mercury Prize 2012.
The Bonkers and Dance Wiv Me musician picked up the award back in 2003 for Boy In Da Corner.
Plan B is nominated for iLL Manors and is hoping a win would help raise the profile of urban music.
"Think about what winning this prize did for Dizzee Rascal.
"Not just Dizzee Rascal but grime music and UK urban music.
"As soon as Dizzee Rascal won, a lot of record labels went out and started signing up artists so it is pretty prestigious and it is important."
UK hip hop
The rapper and singer, who is one of the favourites to win the prize, was speaking to Newsbeat at the award nomination event.
"With a project like iLL Manors, it's a UK hip hop record.
"I was extremely surprised how well it did when it first came out in terms of chart position."
His directorial debut, also called iLL Manors, came out this summer and the album is the first film soundtrack to ever be nominated for the Mercury Prize.
The film is set in East London, near to where Plan B (real name Ben Drew) spent his youth and focuses on the causes of violence and crime in the area.
"To be nominated brings so much attention back to the project and I really, really want more people to go to see the film because of the message the film is portraying," he adds.
'Bitter pill'
Plan B's nomination is for his third studio album.
His first, a "hard hitting record" called Who Needs Actions When You Got Words, was released in 2006.
But it wasn't until his second album, The Defamation of Strickland Banks, that the Plan B achieved real commercial success.
"When my first album came out I didn't compromise. I knew it was really honest and no-one really picked up on it.
"That was a bitter pill for me to swallow.
"To be nominated for the Mercury Prize kind of restores my faith in British music."