Strictly boss: ratings 'will become less important'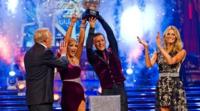 As the 2012 ratings battle between The X Factor and Strictly Come Dancing begins, one Strictly boss has questioned how much ratings matter these days.
"I think ratings will become less and less important," says Glenn Coomber, a co-executive producer on Strictly.
"With iPlayer, with ITV Player, with PVRs, with watching online," Coomber says, "there are all sorts of ways that people consume how they traditionally used to choose one of four or five buttons.
"And so I think over the years there will be a new way of monitoring how ratings work and yes, their significance will change."
Ratings watch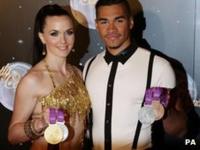 For now though Coomber, like his fellow executives at the BBC and ITV, will be poring over the viewing figures when they come in on Monday morning.
Last year, The X Factor tended to beat Strictly Come Dancing in the ratings, but not always, and both shows regularly pulled in around 10 or 11 million viewers.
So far this year, The X Factor is averaging between eight and nine million viewers.
X Factor judge Louis Walsh feels no threat from the BBC's Saturday night dance show.
"Not at all," says Walsh, dismissing any notion of competition.
"That's on the other channel. Listen, X Factor's the biggest show on TV."
Brucie bonus
The scheduling clashes of 2011, when the two shows at times overlapped, could also turn out to be non-existent this year.
When Strictly returns on Saturday 15 September it starts at 6.30pm on BBC1 and ends at 7.35pm, while The X Factor doesn't begin on ITV1 until 8.10pm.
Strictly host Sir Bruce Forsyth is intrigued by this: "They (The X Factor) have been starting at 8 o'clock, which is very interesting.
"They've never started at 8 o'clock before so maybe they're giving 6pm to 8pm to us?
"I don't know what their thing is," concedes Forsyth, "but it was very interesting a couple of weeks ago that they didn't go in on our ground."
Glenn Coomber confirms Strictly is trying to steer clear of clashes as well.
"Our schedule isn't set yet," he says. "It's not something that we would be pursuing really, no."
Regardless of how viewing habits are changing, there will still be ratings battle hype played out in the press. So can that hurt or help both shows?
"Depends who wins doesn't it?" admits Strictly's Coomber, laughing.