New investigation into Hillsborough disaster announced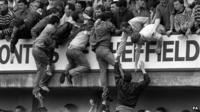 The High Court has quashed the original accidental death inquest verdicts, returned after 96 Liverpool football fans died at Hillsborough.
The government has also announced a new police investigation into the Hillsborough Disaster.
The inquiry will focus on the deaths of football fans at the FA Cup semi-final in 1989.
An independent report revealed attempts of a cover up to shift blame on to the victims and that 41 of those who died could possibly have been saved.
Newsbeat recently met two sisters from Kirkby on Merseyside, whose father Alan McGlone died in the disaster.
Claire and Amy McGlone were just two and five years old when it happened.
Sporting disaster
"The day or two after, my mum just sat us down and said my dad had to go to heaven but she couldn't explain why because we were only babies," says Claire.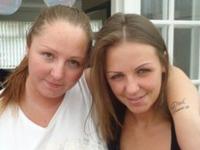 She says she doesn't remember her dad or the day of one of the worst sporting disasters in history - he was 28.
"I was 13, 14 I think, when you then start knowing that your dad was in a crowd and there was a few people and people got hurt."
As Claire and Amy got older, they wanted more information.
Like a lot of the relatives, they say they have never found out the exact details around their father's death.
Three years ago when the Hillsborough Independent Panel began its investigation, Claire explained they also wanted to delve a bit deeper.
"Everything from my dad's files, any statements, any bit of camera evidence we can get our hands on, we have.
"I wanted to know that I knew everything. It's my dad and I have the right to know."
Video footage
Amy admits at times it has been difficult to see some of the footage from the day.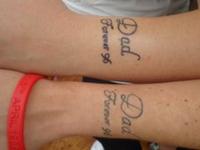 "The video footage we've seen is just horrendous.
"Just knowing when you are looking at what's happening there are people standing there not helping, they're not helping my dad."
The sisters believe he was pulled out of the crowd alive and could have been saved.
She says: "We've looked [online] and there's people that appear dead there and within two seconds they are walking back around the pitch."
At the time the Hillsborough Independent Panel report was released, Claire was not sure whether reading the files would bring any closure for her family.
"I just think it's going to bring a level of understanding to where we can make sense of it a bit better."