Hunger Games: Catching Fire begins filming in Georgia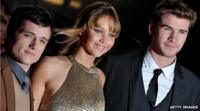 Part two of The Hunger Games trilogy has started filming in America, Lionsgate has confirmed.
The film studio said production on 'Catching Fire' began on 10 September and will mainly be shooting in and around Atlanta, Georgia.
Based on books by Suzanne Collins, the first film was a major success earning more than $700m (£437m) worldwide.
The film is being made by Francis Lawrence after the director of the first film, Gary Ross, pulled out.
Ross previously said a tight production schedule for the second movie, due to be released on 22 November 2013, left him with little time to prepare.
He denied reports that he had fallen out with Lionsgate.
The Hunger Games trilogy tells the tale of teenagers fighting to the death at a televised event in the future nation of Panem.
The books have sold more than 50 million print copies in America alone.
Heading for Hawaii
Picking up months after the first instalment, Catching Fire sees a rebellion growing in Panem and the characters being drawn into another Hunger Games event.
Jennifer Lawrence plays heroine Katniss Everdeen, while it also features Josh Hutcherson, Liam Hemsworth, Philip Seymour Hoffman and Donald Sutherland.
After shooting in Georgia filming will move to the beaches and jungles of Hawaii, before finishing in late December 2012.
Director Francis Lawrence previously worked on films including I Am Legend, starring Will Smith, and Constantine, starring Keanu Reeves.
The final part of the series, Mockingjay, will follow franchises like Harry Potter and Twilight and be split into two parts.
The first is lined up for release on 21 November 2014, with the concluding part out on 20 November 2015.