Labrinth says he and Tinie Tempah are back in studio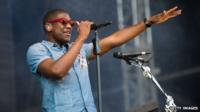 Labrinth says he and rapper Tinie Tempah are working together again.
The singer/songwriter/producer says the pair have been creating new material which he is excited for fans to listen to.
"Me and Tinie hooked up about a week ago and we've been working on some amazing new records, which I can't wait for people to hear."
He also revealed that Tinie Tempah isn't the only artist that he has been collaborating with.
Speaking at the launch party for MTV New for 2013, Labrinth said he said had "been in the studio with everyone recently".
"Ed Sheeran, Plan B, it's all going off in my studio at the moment," Labrinth told Newsbeat.
He went on to joke that he was set to form his own group to rival Syco labelmates, One Direction.
"Not too long ago [people] were calling me, Devlin and Ed Sheeran, Wrong Direction.
"That's what we call ourselves when we're a boy band. It's a great name."
As well as producing and writing for others, Labrinth has also had a successful year with his own music.
Debut album Electronic Earth hit number two in the UK chart and has spawned hit singles like Earthquake on which Tinie Tempah featured.
Other hits the pair have worked on together include Tinie Tempah's tracks Pass Out and Frisky, which were both produced and co-written by Labrinth.