Lady Gaga's Born This Way Ball Tour starts in the UK
9 September 2012

From the section

Music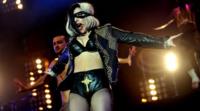 Lady Gaga has begun the UK leg of her Born This Way Ball tour at Twickenham Stadium in south-west London.
The 26-year-old singer played a number of her chart topping hits, including Just Dance, Bad Romance, and Marry The Night.
The star performed around a set of a large castle and props included motorbikes with keyboards attached.
The tour will continue at Twickenham tonight (Sunday 9 September), before heading to Manchester, September 11.
Throughout the show, Lady Gaga thanked fans for attending: "On behalf of me, my wonderful band, my fabulous dancers, production staff, amazing crew, thank you for buying a ticket to come and see us.
"You could have spent your very hard earned money any other way, but you decided to spend it here."
Fan participation
A number of fans had queued outside the stadium overnight to gain a place, standing in the Monster Ball pit, positioned next to the stage.
At one point during the show, Lady Gaga and two of her dancers were pelted with fan memorabilia, which the singer explained was her opportunity to get "intimate" with her fans.
She took the gifts away with her and invited some of their owners back stage with her after the show.
17 year-old Chiara Valenino and friend Cressie Moxey, 18, said the show was "amazing".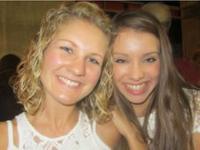 "It was so good, it was amazing, my favourite bit was Bad Romance, that is my favourite song," Chiara said.
"She's so nice, she's so inspirational."
Gaga also invited a fan on stage who had attended topless, except for a cross of black plasters saving her modesty.
Princess Di
Lady Gaga performed a cover version of John Lennon's Imagine, dubbing him "the greatest song writer ever."
The singer also sang a song which she warned the crowd could be seen as "controversial" in the UK, as it was about Princess Diana.
She explained: "Since I was a very young girl, the people's Princess was the most important person in me and my mother's life.
"I swore if I ever had an audience like this in London I would take a moment to appreciate her.
"This song is called Princess Di - D-I-E."
The star claimed the song was designed to inspire people to be kind to one another, before adding the song was also for Amy Winehouse too.
Tickets
Fans told Newsbeat they weren't too disappointed that tickets for the gig had appeared on discount websites for nearly half their original price last week.
But not everyone enjoyed the show. 24-year-old Tom Gerry said Gaga "could have done a much better show than she did."
"I think it was a bit disappointing. I just think it was really lazy," he said.
"I think for the amount you pay for a ticket, compare it to what else you pay, compare it to a Take That show, everything's staged differently, much more dancers, much more lighting, each song is staged differently, there's lots going on. This just doesn't compare."