First boot camp gets young people into cybersecurity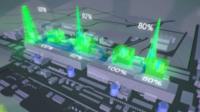 For the first time, a boot camp has been set up to get young people working in cybersecurity.
Online attacks are rated among the biggest threats to the UK alongside international terrorism.
The group behind the four-day camp at Lancaster University says schools need to do more to make young people aware that it is a career option.
21-year-old Callum Vickers from Leicester is one of the 22 hopefuls chosen to attend the event.
He says that he got into it by messing around on computers with his friends.
"We got together and hacked each other to see how we could get into each other's systems," he said.
"It's fun, it's a challenge and it's almost an addiction."
Nuclear challenge
During the day, the group are given a number of computer-related tasks. In one scenario, they are told that they face a nuclear threat.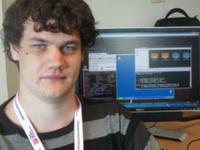 They are split into two teams and are told to break into the IT systems of each other's nuclear plant.
People frantically tap at their keyboards trying to stay one step ahead.
When a team loses, sirens go off and TV footage shows their nuclear plant in flames. They are then briefed by cybersecurity experts.
Callum, whose team won the exercise, said: "Someone who possesses the skills of any of us here today can really mess around with systems and easily cause havoc."
But he says most hackers are motivated by the challenge and not by causing destruction.
Job opportunities
The camp is not only sponsored by the government but by technology firms looking to recruit future talent.
"I am unemployed at the moment so it gives me exposure to experience and allows me to have a play," said Callum.
"The employers are here so I can talk to them as well."
Cybersecurity is a growing industry because of an increasing threat against people, businesses and government.
GCHQ, the UK's information surveillance service, says the government is targeted by 1,000 cyber-attacks every month.
Cybercrime is thought to cost businesses and the government £27 billion a year.
Cybersecurity
There has been a rise in university courses teaching cybersecurity, according to Ucas figures.
There are 79 courses being advertised for cybersecurity for 2013 entry compared to 69 for 2012.
However Judy Baker, who founded the Cyber Security Challenge, wants schools to do more to attract people into the industry.
"Schools don't touch on cybersecurity at all and they are not doing very well in the IT technology area.
"There are not enough people coming through as there isn't a pipeline in place," she says.
The Department of Education said they were ensuring that pupils were getting the IT skills they needed through new technology like Raspberry Pi.
They also said they had given schools complete control over their budgets to buy in the support from careers providers to give pupils face-to-face guidance about their future.