Downton Abbey is set to return in September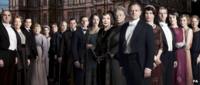 Downton Abbey is set to return to TV screens on 16 September.
ITV has confirmed the third series of the 1920s period drama will be broadcast at 9pm, after the Sunday edition of The X Factor.
The series is set in a fictional Yorkshire country house and follows the lives of the aristocratic Crawley family and their servants.
The latest storyline sees the mother of Cora Crawley, played by Elizabeth McGovern, sweep into Downton Abbey.
She arrives for her grand-daughter's wedding.
But Mary Crawley's relationship with her finance cousin Matthew is under strain and there are worries they won't make it to the altar.
New footman Alfred also joins the house and tries to meet butler Carson's high standards.
Actor Matt Milne, who plays the new character, said: "Alfred got the job through his mother who wrote a letter to her sister O'Brien.
"Carson is unhappy that O'Brien has gone over his head and makes it difficult for him from the beginning."
Series three will also feature the arrival of Shirley MacLaine as Lady Cora's mother Martha Levinson.
Meanwhile, the BBC is set to screen a major new documentary series at the same time on Sunday nights.
Andrew Marr's History Of The World - which looks at 70,000 years of human history in an eight-part documentary - begins on Sunday 23 September at 9pm.