Lady Gaga's new album Artpop to be launched as an app
6 September 2012

From the section

Music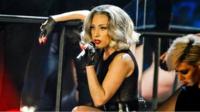 Lady Gaga has revealed that her next album will be released as an app.
The singer confirmed on the Little Monsters website that the album, called Artpop, will be a "multimedia experience".
She says she wants fans to "fully immerse" themselves in the project, which will be released in spring 2013.
"I'm excited to tell you all that Artpop is going to be a multimedia experience that comes in different forms," she said.
"The most major way to fully immerse yourself in Artpop is through the app."
Artpop will be available on a variety of platforms including mobile applications.
Content will include extra music, videos, chat options and games.
Lady Gaga is renowned for interacting with fans via her own social networking site, Little Monsters, as well as on Twitter.
She says she plans to continue that through her app.
She said: "You [the fans] inspired me to create something that communicated with images, because YOU do, YOU communicate with me and each other.
"I'm hoping you will all continue to grow together and stay connected through your creativity."
There will also be physical and digital albums available.
Lady Gaga is on her Born This Way Ball tour, including 110 dates around the world, and is due to play in the UK this weekend.