Jepsen reveals Bieber, FUN., LMFAO album collaborations
5 September 2012

From the section

Music
Carly Rae Jepsen has revealed that collaborations with Justin Bieber, FUN. and LMFAO have made it onto her forthcoming album Kiss.
The Canadian singer said she already felt "nostalgic" about a duet recorded with label-mate Bieber "even though it hasn't been released yet".
She will release the follow-up to 2008's Tug of War later this month.
The Canadian star's track Call Me Maybe has sold more than seven million copies around the world this year.
LMFAO meeting
Carly Rae Jepsen explained that her collaboration with Red Foo from LMFAO came after a chance meeting in a Canadian airport after an awards ceremony.
"I was swarmed by paparazzi and fans," she said.
"I was still at the beginning stages of my career, not really aware that I needed security.
"Red Foo saw this and came over with his security guy and saved me. He was my hero. We began writing a song that day."
The album also features a track with Justin Bieber called Beautiful, which was originally penned to appear on Bieber's recent album Believe.
"That song is already nostalgic for me and I haven't even released it. It's one of those magic moments," said Jepsen.
'Game-changer'
She describes the album's sound as being influenced by The Cars, Robyn and La Roux.
"The lucky thing about having a bit of a career in Canada was that there was that time to explore and try out options and say, 'This is me and this isn't.'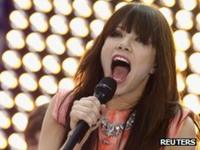 "I really began by writing songs which were a little more folk based. That's what my parents listened to.
"I moved to the city and was taken by anything which made me dance. I fell in love with La Roux, Dragonette and Robyn. It's a pop album."
But she admits Call Me Maybe "still has a special place" in her heart.
So far this year it's reached number one on iTunes in 37 different countries.
"When we worked on the song we felt that spark," she said. "But we never expected any of this.
"To be living through the adventure that one song has taken me on is a dream for me. It was the game-changer."
Carly Rae Jepsen releases her album Kiss on 17 September.