Woman has an eyebrow transplant after over plucking hair
4 September 2012

From the section

Health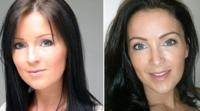 A woman who plucked her eyebrows too much when she was younger has spent £3,500 having a hair transplant.
Claire Culverwell, 30, says she used tweezers so much that she was left with just a few hairs above her eyes.
The trainee dentist, from Whalley in Lancashire, said: "For more than 15 years I plucked my eyebrows weekly in order to get a super slim appearance to my 'brows, not knowing that eventually the hair would not grow back.
"By the time I realised what I was doing, it was too late.
"I became quite embarrassed about what I'd done to myself and I knew as I grew up that drawing my eyebrows on with a pencil just did not look natural.
"Whilst on stage singing or with patients in a clinic I was constantly aware of how this looked and eventually I took it upon myself to look for a solution."
'Not for vanity'
Claire's treatment involved a six-hour operation in which a strip of hair from the back of her head was removed and grafted on to her face.
The hair most closely matching the colour and size of her original eyebrows was used and transplanted using a needle.
Claire says now everything has healed, she's happy with the results, despite having to trim her eyebrows every couple of weeks.
"After a relatively short procedure to move hair from my scalp to my 'brows I almost have back what I had before I started plucking," she said.
"I can finally stand on stage or in a surgery confident and happy.
"I know that it sounds really superficial to some people but it really did make a difference to my life.
"It's not for vanity, it's not for attention, it's for happiness and I would do it all over again."