Autumn album pile-up problematic, say music retailers
4 September 2012

From the section

Music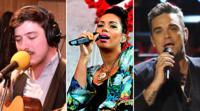 Music retailers have urged record labels to spread the release of their big albums equally across the year.
The Entertainment Retailers Association says scheduling many of them in the run-up to Christmas is damaging sales.
The ERA's Kim Bayley said: "Cramming all the key releases in the fourth quarter is problematic both for consumers and retailers."
Universal, the world's biggest label, says a significant portion of its sales still come in that period.
Summer struggles
The row comes after some disappointing sales weeks for albums in the UK in 2012.
In August, Rihanna set a new record for the lowest-selling number one album since modern records began.
Her album Talk That Talk, which came out in 2011, sold 9,578 copies to return to the top spot.
In May Emeli Sande sold 13,430 copies of Our Version Of Events to reach number one.
These are isolated cases but according to the BPI the average sales for a number one album in 2011 was 109,175 - its highest for six years.
The Entertainment Retailers Association represents some of the country's biggest high street stores, supermarkets, online download stores and music streaming services.
The body's director general Kim Bayley said: "The first half of 2012 has seen one of the weakest release schedules retailers can remember in both music and video games.
"It is very difficult for retailers to sustain their year-round investment in staff and rent when sales are crammed into such a short window."
Label defence
The world's biggest record label Universal have defended their strategy of releasing many of their big-name albums in the final months of the year.
Brian Rose is the managing director of the commercial division at Universal UK.
This autumn his team has scheduled new albums from The Wanted, Mumford & Sons and Robbie Williams.
He says August is always a quiet month and points towards modern global release strategies as a reason, since much of mainland Europe's music industry takes the period off as holiday.
"August is not a great month to release a big new record because most people aren't buying music at that point," he said.
"We don't put all our hopes into an autumn release period. We are very much a 52-weeks-of-the-year business but there are solid business reasons to release a lot of them in the autumn.
"In December we'll sell 20% of all the albums we'll sell in a year, so it's still a big opportunity."
Christmas congestion
In recent years HMV has struggled on the high street, as it moves away from sales of physical music.
Spokesperson Gennaro Castaldo says retailers are concerned about big releases all arriving at the same time, something he calls "congestion" in the schedule.
"If you've got umpteen albums and DVDs all fighting for that key retail and media space then clearly not everyone is going to achieve their sales," he said.
"I think there are lots of potential sales which aren't achieved."
However, both retailers and record companies agree 2012 has been an exceptional year.
They say album sales have seen fluctuation because consumers have been distracted by big events such as the Queen's Diamond Jubilee, Euro 2012 and Olympic and Paralympic games.