Creamfields will give money back for cancelled festival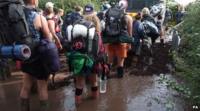 Creamfields organisers have released the full details of how much they will be refunding people after the festival was cancelled on Sunday (26 August).
Those who bought day tickets for the Sunday will be given full refunds.
Following heavy rain, the event had to be cancelled because parts of the arena and campsite had flooded.
Ticket-holders have been frustrated at the delay in finding out how much money Creamfields will be giving them back.
Fans with other tickets will get about half their money back as long as they were bought from an official seller.
People who purchased their tickets with a debit or credit card will receive an automatic refund to the same card the transaction came from.
Anyone who bought passes from a non-official retailer such as eBay will not be able to get their money back.
Fans missed out on seeing acts such as Deadmau5, Calvin Harris and Sub Focus, who were all due to appear on the Sunday night.
More advice on refunds is available on the Creamfields website, along with full details of the amount which will be refunded for each ticket type.
Refund amounts include:
Earlybird two-day camping - £50 refund
Earlybird three-day camping - £50 refund
Standard two-day camping - £62.50 refund
Standard three-day Camping - £62.50 refund
Two-day non camping - £57.50 refund
Sunday standard - £60 refund