The xx: We're in our favourite band now
3 September 2012

From the section

Music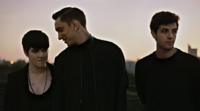 7 September 2010: The three members of The xx, looking startled, rise from their table to collect the Mercury Prize for their self-titled debut album.
In a bar a short distance away in Central London a "win or lose" party made up of friends and family erupts with a mixture of elation and relief.
"When we won, apparently it was like a football match in there," smiles singer Romy Madley-Croft.
Their victory over Mumford & Sons and Dizzee Rascal wasn't a surprise - they were favourites - but they genuinely didn't expect it.
Next chapter
September 2012: The London threesome are on the verge of releasing the follow-up to that album. It's called Coexist and it's been an eventful two years.
In what seems an appropriate setting for the band, front pairing (Jamie Smith is elsewhere today) Romy Madley-Croft and Oliver Sim are huddled on plastic chairs on an east London office rooftop overlooking rattling train tracks and urban parkland.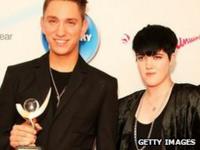 They're reminiscing over a photograph they recently discovered - it's them performing together aged four.
"The funny thing about it is that we're on a little stage and we're actually on the sides of the stage that we're on now," smiles Oliver.
Straight after their Mercury win The xx could have embarked on a victory lap tour, grasped all the back-patting press opportunities and a re-released the album. But they resisted.
"The people we work with realised that we were very much ready to go home," they say. A year later they reconvened.
"We didn't have a staff meeting at the beginning of the process to decide what we wanted to do," says Romy. "There was no itinerary."
They experimented, initially, by perforating their notoriously tight bond by working with outside producers.
"We worked with Diplo and a few other producers from London and we learned so much from them," whispers Romy. "But the biggest lesson we learned was that we already had the sound we wanted.
"It's not the fault of any of them but there is a lot of space in our music that they would perhaps fill with their more signature sounds."
It's a polite way of saying, it didn't work out.
"I'm in my favourite band and I don't take for granted how good a relationship we have," adds Oliver. "I'm not ruling it out but I think it would be hard to bring in someone new into the equation."
Prize money
In their Mercury acceptance speech The xx promised to reinvest the £20,000 winners cheque back into the group. Which they did, setting up in a studio in a studio-come-apartment.
"Maybe we should have gone on holiday with it," Romy jokes.
Their office block neighbours complained about the noise so they'd clock in at 6pm to work throughout the night.
The process saw Oliver and Romy physically write in a room together for the first time - instead of emailing each other ideas.
"Our writing has always been very separate to the point where it's almost like two solo artists coming together," says Oliver.
"I don't want people to worry about us - we're actually quite happy people.
"On this record I feel more like a band than ever. We found a lot of confidence in ourselves this time around."
Pop collaborations
Part of the confidence Oliver talks about has fed a new desire for the pair to write for other artists - specifically big pop acts.
"The idea of just writing pop songs sounds brilliant to me," he says. "Beyonce would be the dream. It would be an experiment. Sit down and write a song about Beyonce's baby. Great!"
"We're all unashamedly fans of pop music," says Romy. "It doesn't seem like the strangest idea to want to do that. It feels like a natural thing.
"When I was younger I thought all big pop stars wrote their own lyrics but then you realise that's not always the case. I think we could create something that's fully intact and present it to someone written with them in mind."
TV music
To date, their debut has sold more than a million copies around the world, more than a third of those in the UK.
Memorably, their song The Intro sound-tracked the BBC's 2010 General Election coverage.
"For us, it wouldn't have been what we'd have chosen," says Romy. "We've never tried to make a comment on politics or anything tying ourselves to a space or time."
Like their debut this album's cover art features their simple 'X' logo - this time coloured with the inky shine oil and water mixed together.
"Oil and water peacefully coexist," concludes Romy, in a nod to the album's title.
"I love that idea that two things that aren't necessarily beautiful come together to make something extraordinary. I guess I thought about the three of us."
The xx release Coexist on 10 September. A documentary about the making of the album airs tonight (3 September) on BBC Radio 2 at 9pm.