Demand from emergency food banks is 'still rising'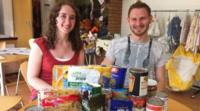 A charity which runs food banks says it's opening four new centres a week in the UK to keep up with demand for emergency food supplies.
The Trussell Trust says that as people struggle with rising bills many are having to go without meals.
It says one of the biggest problems is that people with jobs are finding they're running out of money before the next pay cheque comes in.
The charity has fed 50,000 people in the UK since April.
People have to be referred to the food bank by someone like a doctor or social worker.
They are given a maximum of three parcels and each one is meant to last three days.
Food is donated by businesses, through collections, or by individuals.
In April The Trussell Trust said it was opening two new banks a week, which has now doubled to four.
Bethan Lloyd, 25, who manages its Lincoln food bank, says the centre is seeing a steady rate of growth.
She said: "If we continue to go on the numbers we're going at the moment, we'll have definitely fed more than 2,000 individuals just in the city centre in less than a year."
The food bank has different size food parcels for a family, a couple and a single person.
'Living on toast'
Bethan says they are designed to be healthy.
"It's been investigated and put together by nutritionists, so we know we're assembling a nutritionally-balanced parcel for three days," she said.
Bethan says that many people she sees just need short-term help.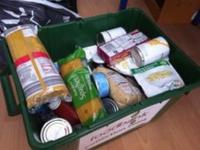 For example, when a winter heating bill pushes their finances to the limit or they have to wait for their first pay packet in a new job.
Jonty, 22, needed emergency food last year when his hours were cut at his part-time job.
"I didn't get the shifts that I needed that month, so I was down on food," said the Lincoln student.
"I was a little bit embarrassed about asking my friends to go round and eat with them."
Jonty says his student loan only covers his rent and bills and that while his job normally helps him get by, he was going through a tough time financially.
"It got to the stage where I was eating a piece of toast for lunch, a piece of toast for breakfast," he said.
"My stomach was constantly rumbling. I had stomach pains, I was very tired."
A government spokesperson said: "We're committed to supporting people on low incomes, which is why we have increased the personal allowance to take more than two million people out of tax, frozen council tax and given a 'triple lock' for rises in the basic state pension.
"The benefits system provides a safety net to cover costs such as food and housing and these benefits increase every year in line with inflation.
"We also provide emergency financial support through crisis loans if people find themselves in trouble."