Black Keys: Work hard as a band if you want success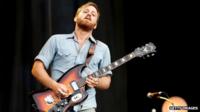 Dan Auerbach from The Black Keys says bands need to learn their trade and work hard if they want success.
He and drummer Patrick Carney released five albums before finding success with 2010's Brothers.
The record has since sold more than a million copies in the US and won three Grammy music awards.
"I think all those years of hard work paid off. We were doing well but I think that helped to soften the blow of all the major success," said Auerbach.
"It's weird. We were successful before Brothers came out but it's a different level now. It's just odd. I don't really know how to describe it.
"We could sell 15,000 tickets in New York City on our own before Brothers came out.
"I can imagine that if you're a band just starting out and you put out your first record and you became hugely successful, I can imagine that might be a bit difficult to take."
New album
Ohio duo The Black Keys played in the main support slot at this year's Reading and Leeds Festivals before Foo Fighters.
Organiser Melvin Benn has tipped them as future headliners along with the likes of Florence + the Machine and Paramore.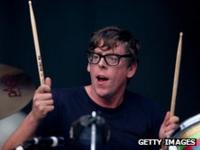 Dan Auerbach, 33, says he could see his band topping the bill at future festivals.
"With everything that's happened to us in the last couple of years, anything seems possible," he said.
"We're amazed every other day by something. Who knows?"
Auerbach, Carney and the rest of the touring band are off to South America, Australia, New Zealand and the US before returning to E.
They say they will then start work on the follow-up to 2011's El Camino.
"Early next year we've got some time blocked to make a new record. It's full on."
Following their recent success, Dan Auerbach also had some advice for anyone wanting to be in a band.
"Just make music that you like," he said.
"Try to enjoy yourself and that's all you can do.
"I can't even say that because most musicians are unhappy. Just don't listen to anyone and make music."