Will.i.am song Reach For The Stars to debut on Mars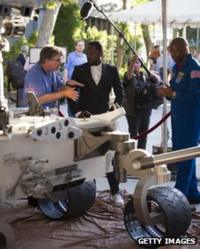 Will.i.am's new track is to be broadcast for the first time from Nasa's Curiosity rover on Mars.
Reach For The Stars will be played out on the surface of the planet as part of an educational event in America.
Members of Nasa's team will explain the song's transmission across space to students, as well as the rover's overall mission.
The project is a collaboration between Nasa and the Black Eyed Peas rapper's i.am.angel Foundation.
It will be broadcast at 9pm UK time on Tuesday night (28 August) on Nasa TV.
The track has been described as "an ode to the singer's passion for science, technology and space exploration".
Will.i.am's foundation aims to provide digital resources in classrooms across the United States from nursery school to grade 12, or the equivalent of year 13 in the UK.
Curiosity, a one-tonne space vehicle, landed on Mars on 6 August.
Its mission, which will last at least two years, will be to look for evidence that the red planet may once have supported life.