X Factor singer Lucy Spraggan's music taken offline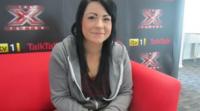 An X Factor contestant has had her music taken off sale online in what she says is a "joint decision" with the ITV programme.
Soon after Lucy Spraggan's audition aired on Saturday evening her tracks and album began to climb the charts.
Spraggan says there's a "part of me that's disappointed" but that it was "fair on everybody involved".
"Obviously I was asked and I've obliged because you've got to do, what you've got to do, to get somewhere in life."
Speaking to Newsbeat, she added: "If that means you've got to remove your album from iTunes and everywhere then you're going to do it."
The track that 20-year-old Spraggan sang during her audition, Last Night (Beer Fear), has already sold thousands of copies.
During her spot on the show the Sheffield singer wowed judges with the original composition which tells the story of a night out and the morning after.
'Number one potential'
Judge Louis Walsh said: "That song could be a number one record. Very few people get that reaction."
Last Night (Beer Fear) was recorded 18 months ago in a friend's bedroom along with an album called Top Room At The Zoo.
"There's always going to be a part of me that's disappointed about it but if you think about it in the long run, with things which could be happening in the future, they're going to be substantially better. It doesn't matter.
"The other contestants may not have had the opportunity to get a microphone or go in a studio.
"On that part of it I reckon it's probably a bit better to take it off to let everyone have the chance to get in the same studio, have the same equipment and see who comes out on top."
A spokesperson for the show said: "All contestants have been asked to remove their recordings as it is essential that all the contestants are treated fairly during the competition and, where possible, receive the same exposure."