It will be good to go back home, say Of Monsters and Men
29 August 2012

From the section

Music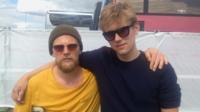 Most bands travel around the world, but if you're from Iceland getting home takes that little bit longer.
For relative newcomers Of Monsters and Men, that mean lots of coach rides, boat trips and flights to the country's capital Reykjavik and back.
"We have been taking the ferry a lot of times and eating everything from the menu, mostly fish and chips and burgers and using the wonderful toilet facilities," sighs piano player Arni Gudjonsson ahead of an 11-hour coach trip to Switzerland.
The six-piece have just played the opening slot in the Radio 1/NME tent at this year's Reading Festival to a small but vocal crowd.
Squeezed between their set at Leeds on Friday and Reading on Sunday was a performance in Paris.
"It was great to play the show today," says drummer Arnar Rosenkranz Hilmarsson, who looks like he's travelled close to 1,000 miles in three days.
"We didn't expect so many people to show up that early on a Sunday."
'In your face'
Of Monsters and Men's brand of epic indie folk music goes down well with a sing-along to Little Talks, which made it to number 21 in the UK singles chart and has been played regularly on Radio 1.
The rest of the band is made up of singer/guitarists Nanna Bryndis Hilmarsdottir and Ragnar Thorhallsson plus guitarist Brynjar Leifsson and bassist Kristjan Pall Kristjansson.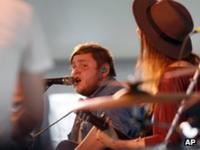 "We are honoured that people are playing our single and liking it and listening with their ears and singing along with their mouths," says Arni.
Their debut album, My Head Is An Animal, was released last September months after they won a battle of the bands in Iceland.
"When we made the album our goal was to try and make it sound as big as possible, as loud as possible but still folky," explains Arnar.
"So we rented the biggest studio available in Iceland to get all the reverb.
"We were going for this wall of sound theory. Really in your face," adds Arni.
After a gruelling year of touring and promotional work, the band say they are looking forward to some downtime in Iceland.
Their final appointment of the year is at the Airwaves Festival in Reykjavik at the beginning of November. Before that they have another 13 concerts across Europe to fulfil.
"It's good to go back home. It is so far away," says Arnar.
"We are very connected to that little island. The big world is very overwhelming.
"Hopefully next year we can focus on new material."
The band play a nine-date tour of the UK in 2013:
QMU, Glasgow - 22 February
HMV Ritz, Manchester - 24
Rock City, Nottingham - 25
HMV Institute, Birmingham - 26
O2 Academy Bristol, Bristol - 27
O2 Academy, Oxford - 1 March
Portsmouth Pyramid Centre - 2
Norwich UEA - 3
O2 Shepherds Bush Empire, London - 5