Green Day play surprise slot at Reading Festival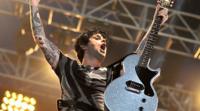 Green Day have made a surprise appearance at this year's Reading Festival.
The US punk rock band hinted on Radio 1 earlier this week that they may be performing but didn't confirm the news.
The group, who bring out a triple album later this year, played tracks like American Idiot and Boulevard Of Broken Dreams ending on 99 Revolutions.
They previewed material from ¡Uno! ¡Dos! ¡Tre! including Oh Love and Stay the Night.
The first part is out on 24 September, with parts two and three out on 12 November and 14 January 2013.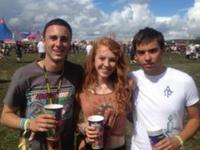 The band - consisting of front man Billie Joe Armstrong, bassist Mike Dirnt and drummer Tre Cool - hadn't played at Reading since headlining the festival in 2004.
Grace Griffiths, 18 from Slough, Craig Andrews, 22 and from Slough, and Sam Higgins from Windsor managed to get into the Radio 1/NME Tent to watch the set.
"It was absolutely amazing," they said.
"We heard that the were playing on Thursday morning on Radio 1, so we got here early to see them."
Stadium date
The band have confirmed a full UK tour for next year starting at Arsenal's Emirates Stadium on 1 June 2013.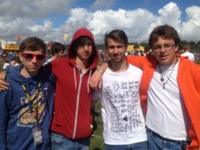 Jacob, 17, Luke, 15, Jake Silva, 19, and Edward, 17, also watched the surprise gig.
"They were amazing. They were the best thing I've heard at the festival so far," they said.
"Billie Joe Armstrong is the best front man I've ever seen.
"But they should have been on the main stage, then more people would have seen them."
Huw Stephens will be presenting the early afternoon show on Radio 1 between 1-4pm from Reading Festival on Saturday and Sunday. BBC Three will also be showing live performances through the weekend and there will be more on the red button.
See pictures and video from the festivals at the BBC Reading and Leeds website.