Green Day play new material at intimate London gig
24 August 2012

From the section

Music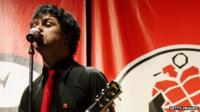 Green Day fans have had a rare chance to preview the band's new material at an intimate London gig.
They performed new material from ¡Uno!, the first of three new albums set for release this year.
2,000 fans watched Green Day perform at London's Shepherd's Bush Empire, having had the opportunity to buy tickets just two days before the gig.
The last time the Californian trio appeared in the UK was in June 2010 where they performed three arena dates.
Opening the show with Tre Cool on guitar and front man Billie Joe Armstrong on drums, the band performed All By Myself.
Fans liked recent singles Oh Love and Kill the DJ but it was classic tracks Basket Case and Minority that drew the biggest cheers from the audience.
Billie Joe was clearly pleased with the crowds reaction to new material saying: "It's so nice to see people singing along before the album has even come out."
Performing energetically throughout, the band interacted with the crowd and on several occasions brought up fans to sing and play the guitar.
Mid way through the set front man Billie Joe brought on a water pistol spraying the audience to cool them down.
They finished with an encore of American Idiot and 99 Revolutions, also confirming that they would be back in the UK for an arena tour next year.
Fans Emily Harmer, 20, and Rachel Kiddle, 20, travelled with friends from Bournemouth for the gig.
"It's ridiculous that now in 2012 that they are playing such a small venue when the last place we saw them was Wembley Stadium. It was amazing - best night of my life."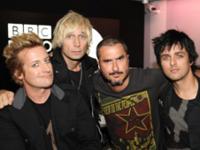 The show was also watched by Paramore's Hayley Williams, who tweeted from the show.
"Just saw another ridiiiiculous Green day show! @BJAofficial got me with the water gun.. Wet dog status right here."
Paramore are due to play at Reading festival this weekend, which Green Day have hinted that they could be making a surprise appearance at.
Speaking to Zane Lowe, Billie Joe said: "If there were ever any rumours that we were playing at Reading, I think playing Dookie from front to back would be a novel idea."
Green Day are set to release a trio of albums starting with ¡Uno! on 24 September. The following parts ¡Dos! and ¡Tré! following on 12 November and 14 January.