Injured burglar charged with LL Cool break-in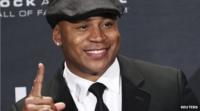 A homeless man who broke into the home of rapper turned actor LL Cool J has been charged by police.
Jonathan Kirby, 56, was charged with first-degree burglary and faces a maximum sentence of 38 years to life in jail.
The break-in happened in the early hours of Wednesday morning with police confirming a "brief physical confrontation" took place.
Kirby remains in hospital with a broken nose, jaw and ribs.
Los Angeles police said LL Cool J was able to detain the intruder until officers arrived and wasn't injured himself.
It was also revealed that Kirby has previous convictions, including one for voluntary manslaughter nearly 25 years ago.
"LL Cool J, and his family are safe and thank everyone for their thoughts and concern," said his spokesman, Rhett Usry.
"As a father, husband and citizen, he is committed to keeping his family safe and is cooperating with authorities on this private matter."
LL Cool J, whose real name is James Todd Smith, has acted in NCIS: Los Angeles since 2009.
He plays special agent Sam Hanna in the crime show - about an investigative unit of the US Navy.
The 44-year-old rapper also had musical success in the 80s and 90s with hit songs like Mama Said Knock You Out.