Justin Bieber is 'to star' in episode of The Simpsons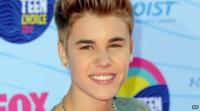 Justin Bieber has recorded a voice-over for an appearance in The Simpsons, it's been reported.
Entertainment Weekly says that the singer will appear in an episode where Bart takes part in a talent contest.
According to one of the show's producers, Al Jean, Justin Bieber tries to enter the contest but is not allowed.
The star's guest appearance is expected to go out towards the end of 2013 as part of the 24th series.
On Tuesday (21 August), the 19-year-old reportedly tweeted about finishing his voice-over but the post has since been deleted.
Executive producer Al Jean told Entertainment Weekly: "It's a cameo... but all of his fans should watch every minute of the show, before and after he's on."
New Girl star Zooey Deschanel and Steve Carell are also rumoured to be appearing in next year's series.
Inviting famous faces to guest star in the show is long established and has seen animated versions of the likes of Ricky Gervais, Russell Brand, Lady Gaga and Professor Stephen Hawking.
The Simpsons, which began in 1989, is the longest-running animated comedy show of all time, with more than 500 episodes broadcast.