Green Day hint at surprise Reading Festival performance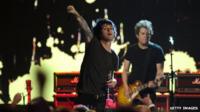 Green Day have hinted that they could make a surprise appearance at this weekend's Reading Festival.
During an interview with Zane Lowe on Radio 1 the band said they couldn't confirm or deny the rumours but joked about playing their 1994 album Dookie.
Front man Billie Joe Armstrong said: "If there were ever any rumours that we were playing at Reading, I think playing Dookie from front to back would be a novel idea."
The band did confirm a UK arena tour.
It will start at Arsenal's Emirates Stadium in north London on 1 June 2013.
Earlier 40-year-old Armstrong wrote on Twitter: "Hello England! What rhymes with shredding??!!" although that tweet was later deleted.
The band have not played at Reading since headlining the festival in 2004.
The punk rock trio's only confirmed UK date is a one-off gig at the Shepherd's Bush Empire in London tonight (23 August) followed by a show in Paris on Monday.
'No fillers'
During the interview with Zane Lowe, the band also played a number of new tracks from their forthcoming triple album, ¡Uno!, ¡Dos! and ¡Tré!
The first part is out in the UK on 24 September with the next two available on 12 November and 14 January 2013.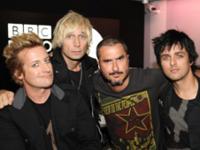 It is the first new material from the band since 2009's 21st Century Breakdown.
Billie Joe Armstrong said the reason behind their triple album was the quantity of decent songs they had written.
"It's the best time we've had as a band," he said. "[There were] lots and lots of songs and there were no fillers.
"When we got to about 28 or 30 songs, instead of putting out a double or triple record, we thought it would good to do a Green Day Volume One, Volume Two, Volume Three, a bit like Twilight."
Green Day's American Idiot show is set to tour the country in October.
The Broadway musical will visit Southampton, Cardiff, Edinburgh, Glasgow, Manchester, Birmingham and London.