Paralympics: Athletes with learning disabilities to compete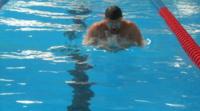 For the first time in 12 years athletes with learning disabilities can compete in The Paralympic games.
The category was banned after the Sydney 2000 Paralympics when it emerged players on the Spanish basketball team had faked having a disability.
Athletes with learning disabilities were unable to compete in Athens 2004 or Beijing 2008.
In the London 2012 Paralympic games 10 British athletes with learning disabilities will compete.
ParalympicsGB
They will compete in athletics, swimming and table tennis.
There is a suggestion that athletes with learning disabilities will be able to compete in more events in 2016 at the Rio Paralympic Games.
Nick Parr, national sports manager from the charity Mencap, works with athletes with learning disabilities.
He said: "A learning disability is an unseen disability and can be more difficult to understand, particularly in a sporting environment.
"We can understand how, say, a wheel-chair user would be affected in a game of basketball but a learning disability affects the way someone's brain works.
"So in sport it might affect their ability to think strategically or in running it might be the way they pace themselves during a race."
New testing
This year a new testing system means a more accurate measure of someone's learning disability.
Nick Parr has helped design the new test.
'We had to have a system to measure the disability and the impact it has," he said.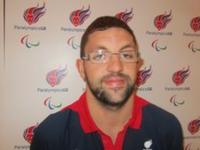 "Athletes with a learning disability across the world now have to go through a very rigorous eligibility process system which includes information around their levels of IQ."
Swimmer Dan Pepper will have his first chance to compete in the Paralympics this year.
He qualified for Sydney 2000 but wasn't allowed to compete when the ban came into effect.
"I'm quite different to most other swimmers," he said.
"They like to be really rested but I like to swim quite hard before I race."
He describes feeling "disheartened" when he heard people had faked having disabilities and says in the new testing system they check his reading and writing skills, his co-ordination and the ability to concentrate.
Dan Pepper says he struggles to remember how many lengths he has done in races or which stroke he is doing but says he has coping strategies to overcome the problem.