Family confirms death of Tony Nicklinson on Twitter
22 August 2012

From the section

Health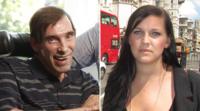 Tony Nicklinson, the man suffering from locked-in syndrome, has died at his home in Wiltshire.
Last week, the High Court ruled that doctors were not allowed to help the 58-year-old end his life.
Writing on Twitter, his daughter Lauren wrote: "Dad, you are finally at peace. Beth and I are so proud to be your daughters, we got our strength from you. I love you xxx."
A Wiltshire Police spokesman said the force would not be investigating Mr Nicklinson's death.
"Police are not involved at all. We can confirm he passed away and it is not a matter for Wiltshire Police," he said.
Last week Lauren, 24, admitted that she had always been a bit of a "daddy's girl".
But in 2005, the relationship with her father Tony changed after he suffered a stroke and became paralysed from the neck down.
Tony, 58, had what was known as locked-in syndrome. His mind was fully alert but he could barely move and he needed 24-hour care.
He said he wanted to die and took his case to the High Court, with the full support of his family.
'No quality of life'
But the High Court decided it would have been wrong to allow a doctor to help Tony end his life.
"Dad wants to die simply because he feels he has no quality of life," said Lauren last week.
"He's gone from a loud, active ex-rugby player to someone who's wheelchair bound who watches telly all day."
The case was complex but Tony Nicklinson had wanted a doctor to give him lethal drugs without that doctor then being prosecuted for murder.
Tony was disabled so he was not able to kill himself.
Lauren, who lives in Bristol, said her dad's decision made sense to people who knew what his life was like before the stroke.
"The relationship we once had was based on doing things together, going out and having fun.
"We can't do any of that now," she said last week. "We have a tight bond but it's different now and from his perspective it's not just not enough."
Lauren's younger sister Beth, 23, also campaigned on behalf of her father.
"When we found out he wasn't going to recover and knew he was going to be locked-in we knew he'd come to this decision.
"Lots of people lose their dads when they're in their nineties," adds Lauren. "It might just be that I lose my dad in his 50s or 60s."
Tony communicated with his family using a special computer which recorded his eye movement to select which letter he wanted to use.
The Ministry of Justice and the British Medical Association, which represents doctors, both supported the court's decision.