Labrinth says he is to have a debrief with Simon Cowell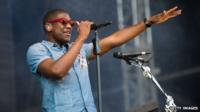 Labrinth says he's had some "amazing names" call him about doing music together.
The singer/songwriter/producer said he was happy to be in demand but wouldn't confirm that he was definitely working with Rihanna.
He also revealed that he'd like to work with Ed Sheeran again and said he was due to meet label boss Simon Cowell to talk about his next steps.
Labrinth's debut album, Electronic Earth, came out in April.
"Loads of writers are working with lots of different artists and I'm just one of them," Labrinth told Newsbeat.
"A lot of people call me and I'm one that's high up on their list. They're like 'We need to get some Labrinth beats.'
"I think they like the way I do my thing. I'm in my own little corner.
"I've had some amazing names call me. It's like, 'Wow, some of the artists I used to listen to when I was younger are calling me.'"
It was recently reported that Labrinth was set to work with Rihanna on songs for her next album but nothing has been officially confirmed yet.
The east London-born star also said he'd be up for working with Ed Sheeran and Devlin again after producing their version of the track, Watchtower.
"Ed's a bad boy and I got mad love for him," said Labrinth.
"I'm keen to work with all of them [Ed and Devlin] and keep this UK thing rolling. There's so much talent down here."
'Ambitious people'
As well as producing and writing for others, Labrinth has also had a successful year with his own music.
Debut album Electronic Earth hit number two in the UK chart and has spawned hit singles like Earthquake.
The fifth track from the album, Treatment, is out on 26 August and Labrinth says he's looking forward to the public seeing another side to his musical style.
"With a lot of artists these days you discover them with one record and you know them. Whereas with me it's an ongoing discovery," he said.
"That's why I've released this many singles, because not every record is the same."
Labrinth also says he's meeting up with Simon Cowell near the end of the year to get a "debrief" (the star is signed to Cowell's Syco label).
"Everyone's got to check in," says the 23-year-old. "After you release an album you go, 'Where did we go wrong, where did we go right?'
"He's already called me and said congrats and well done and stuff like that.
"But we're ambitious people and I didn't come to Syco to rest on my laurels and chill.
"We're going to keep working and keep pushing it."