Taylor Swift breaks US digital sales record for a woman
22 August 2012

From the section

Music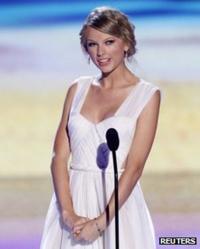 Taylor Swift's new single has set a US record for the most downloads of a song performed by a female artist.
We Are Never Ever Getting Back Together sold 623,000 copies last week, according to Nielsen SoundScan.
The country star's new single has also gone straight to the top of Billboard's digital songs chart.
Only rapper Flo-Rida's song Right Round has sold more downloads in a single week shifting 636,000 copies in February 2009.
Ke$ha's track Tik Tok, which sold 610,000 copies at the end of 2009, was the previous female digital song record holder.
Last week Taylor Swift confirmed that a duet she recorded with Ed Sheeran would be on her new album.
During a live web chat with fans, the 22-year-old revealed that her fourth studio record would be called Red.
It is released in October.
As well as Ed Sheeran, Red features collaborations with a host of other artists, producers and songwriters.
The top 10 biggest digital songs in the US are:
Right Round, Flo Rida - 636,000 (February 2009)
We Are Never Ever Getting Back Together, Taylor Swift - 623,000 (August 2012)
Tik Tok, Ke$ha - 610,000 (January 2010)
Grenade, Bruno Mars - 559,000 (January 2011)
Somebody That I Used To Know, Gotye featuring Kimbra - 542,000 (April 2012)
Boyfriend, Justin Bieber - 521,000 (April 2012)
Born This Way, Lady Gaga - 509,000 (March 2011)
Firework, Katy Perry - 509,000 (January 2011)
Payphone, Maroon 5 featuring Wiz Khalifa - 493,000 (May 2012)
Low, Flo Rida - 467,000 (January 2008)