Naked pictures of Prince Harry appear on the internet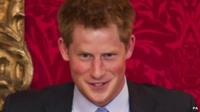 Pictures showing Prince Harry naked in a Las Vegas hotel room have been published on the internet by a US website.
The images show him pictured with a woman, who also appears to be naked.
They were taken while the royal was spending the weekend in the American city.
St James's Palace has confirmed that it is Prince Harry in the photos but is making no further comment about the images.
The two pictures of Harry on the American gossip site are thought to have been taken last Friday (17 August).
The website claims that the pictures came after the prince, who is third in line to the throne, invited friends back to his hotel room for a private party.
It is thought someone in the group captured the images on a camera phone.
Earlier this month Prince Harry stood in for the Queen at the Olympics closing ceremony in London.
He has been on holiday but is now due to resume military duties in the Army Air Corps and as an Apache helicopter pilot.