Inbetweeners creators reveal plans for a second film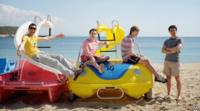 The Inbetweeners co-creator Damon Beesley has confirmed plans for a second UK film.
Beesley revealed that a follow-up to 2011's The Inbetweeners Movie was in its early stages and would see Joe Thomas, James Buckley, Simon Bird and Blake Harrison return for a sequel.
"I don't want to give too much away at this stage but we have been developing an idea for a sequel," he told The Sun.
Co-creator Iain Morris confirmed Beesley's comment on Twitter.
When asked if the movie plans were true, he said: "Yes, but it's far from signed and like Damon said we want to make sure we have a good enough story to tell."
Beesley added that he hoped "to make sure that we can do justice to a follow-up".
The first film, which saw the group head off to the Greek island of Crete on a summer holiday to celebrate leaving school, made £45 million at the box office, despite a production budget of just £3.5 million.
That made it the most successful British comedy film to date.
The film's four stars will could make £2.5 million each after getting up to £500,000 in total from the first instalment.
An American version of the show has just launched on MTV and there are reports of a US film to follow.