Azealia Banks delays release of debut album until 2013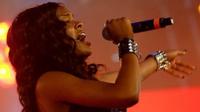 Azealia Banks has delayed the release of her debut album until February 2013.
The 21-year-old rapper and singer, who came third in the BBC's Sound of 2012 list, had originally planned to bring out Broke With Expensive Taste in September.
In a message on Twitter, she said: "Broke With Expensive Taste will be out first quarter of 2013 on Feb 12.
"I have ALOT of REALLY excitin ish happening in btwn! it will ALL make sense as things start to unravel."
The US artist is performing at this weekend's Reading and Leeds Festivals and Bestival next month.
She appeared at Radio 1's Hackney Weekend earlier this summer and is due to tour the UK in September and October.
Azealia Banks also revealed that she was working with some famous producers.
In another tweet she said: "I'm going to be working with MOBY Y'all!!!!!
"I also can't wait for you all to hear the song i worked on with Paul Oakenfold! :D it's sooo good!!"
The Harlem-born rapper made it to number 12 in the UK singles chart last year with 212.
Her debut album is expected to be out in the UK on 11 February 2013, one day before its US release.