One Direction are to headline Radio 1's Teen Awards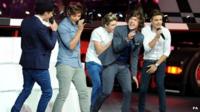 One Direction and Taylor Swift will be performing at this year's Radio 1 Teen Awards on 7 October.
The awards, which celebrate teenagers who have made a difference, will be hosted by new breakfast show presenter Nick Grimshaw at Wembley Arena.
Harry Styles from One Direction, who are headlining, said: "Obviously we played there last year and to be headlining will be a lot of fun."
More details on how to get tickets to the London event will be revealed soon.
Celebrities from the worlds of sport, entertainment and music will also be recognised at the ceremony.
Niall Horan from One Direction added: "It was so much fun last year and it's a great line-up.
"It's always good to be on a great bill. And obviously with the teen hero award, it's an award for people who have done amazing things, obviously it's great to be part of that as well."
Nominations
Last year's X Factor winners Little Mix and Conor Maynard will also be performing at the event.
"I think it's amazing," 19-year-old Maynard said.
"I think when you get asked to do something for an amazing cause, as well as the fact that I get to perform which is one of my favourite things to do as an artist, I think it's amazing.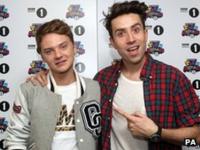 "It's definitely a really good feeling to be part of something that is such a cool cause. I'm really looking forward to it."
There will be further announcements soon on other acts which are going to be taking part.
One of the event's most important awards will be the teen hero award.
Radio 1 is looking for people to nominate someone in their lives who has done something selfless or out of the ordinary.
Nominees can be submitted on the Teen Awards site. They must be aged between 12 and 17 and live in the UK.
It could be someone who has acted courageously, been through a hard time or has contributed to their community.
Nominations must be received by 6pm on Monday 3 September in order to be considered.
Radio 1's commissioning editor, Piers Bradford, said: "Giving us the chance to celebrate some amazing young people and giving a platform to these inspiring stories is what makes Radio 1's Teen Awards such a special event."
Olly Murs won best British album at last year's awards with Ed Sheeran winning best British song for The A Team.