Annie, starring Willow Smith, starts filming in spring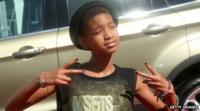 Jay-Z's film remake of the hit musical Annie is due to start shooting next year, says the screenplay writer and film star Emma Thompson.
The actress said: "I have been writing the script for nearly three years, it's exciting."
Thompson also said she would look forward "to having dinner with Jay-Z", who is writing the music for the movie.
The rapper sampled Annie's song from the original movie for his 1998 hit Hard Knock Life (Ghetto Anthem).
The storyline is based on the 1982 film version and will take place in a modern day New York, with Will Smith's daughter Willow taking on the lead role.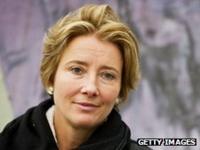 "In the autumn, we get to go to LA to work with Willow and work on more of the script," said Thompson.
"Jay-Z has already started working on the music. We will start shooting in the spring in New York."
The film will include some of the old Annie songs, but some will also be cut to make way for Jay-Z's reworking of the soundtrack.
When asked about 11-year-old Willow, Thompson replied, "I really like Willow. She is getting so tall. I mean both Willow and Jayden (her 14-year old brother) are remarkable."
Jayden Smith is a rap artist and Hollywood actor and appeared in the remake of Karate Kid movie in 2010.
Thompson is appearing in cinemas as the voice of Queen Elinor in the new Disney Pixar film Brave.