Rihanna 'still loves' Chris Brown after assault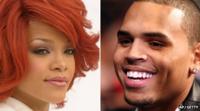 Rihanna says that she she still loves ex-boyfriend Chris Brown despite him attacking her in 2009.
"I truly love him, so the main thing for me is that he is at peace. I'm not at peace if he is a little unhappy," she told chat show host Oprah Winfrey.
She also said she felt protective of him after the attack and was worried that everyone would think of him as a monster.
Brown attacked Rihanna before the Grammy music awards in LA in 2009.
"I think he was the love of my life, the first love, and I see that he loved me the same way," said the 24-year-old.
Rihanna said the pair had been "working on" their friendship again but added that the R&B star was in another relationship, while she was still single.
Talking about her feelings at the time of the attack, she said: "It was embarrassing, it was humiliating.
"I lost my best friend. Everything I knew switched and I couldn't control that.
"It was a weird, confusing space to be in," she said during the interview, which went out in America on the Oprah Winfrey network.
"As angry as I was, as angry and hurt and betrayed, I just felt like he made that mistake because he needed help. And who's going to help him?
"Nobody's going to say he needs help. Everybody's going to say he's a monster, without looking at the source.
"And I was more concerned about him."
Relationship with dad
R&B singer Chris Brown, who was 19 at the time, pleaded guilty to assault and was sentenced to five years probation, community service and domestic violence counselling.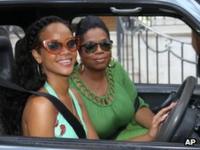 Rihanna has not said much publicly until now about the assault.
She also told Oprah that she had been able to forgive Chris Brown after first sorting out issues with her father.
"I repaired my relationship with my dad. I was so angry at him. I witnessed a lot as a child in my household."
Chat show host Oprah Winfrey, who interviewed Rihanna at the singer's home in Barbados, said that she had started with a fixed idea of Rihanna based on her videos and lyrics, but had changed her view.
"I thought she was going to be kind of a badass, kind of a hard-edged rocker, pop woman," she said.
"Nothing could have been further from the truth."
At the end of the interview, Rihanna also surprised her "amazing mother" on camera by giving her a five-bedroom house with swimming pool.