Student 'feels the pressure' to go on to university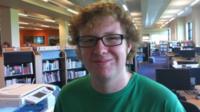 Students started arriving about an hour before they were allowed to get their A-level results at Newcastle-under-Lyme College.
At 9am envelopes were opened and feelings were mixed.
Overall in England, Wales and Northern Ireland there has been a drop in the number of A and A* grades handed out, the first time that has happened for more than 20 years.
There was good news for the boys too as they got more A* than girls for the first time.
Ben Poole, 18, was one of them.
"There's a bit of satisfaction in it," he says. "All these people who say exams are getting easier, they're not in touch.
"Exams are not getting easier and maybe they were harder this year than they have been before."
Tuition fees
Natalie Slater, 18, is one of the students at the college who specialises in sport.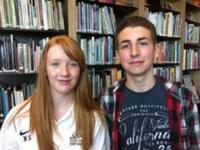 She has already represented England in table tennis and wants to go on to university to study physiotherapy.
This year new, higher, tuition fees come into force in England with some universities charging up to £9,000.
"They have gone up quite steeply now but it's worth it," says Natalie.
"I'm getting three years of solid education, more theory and learning more."
Tom Bevan, 18, is going straight into a business and administration apprenticeship.
He says: "There was a certain amount of pressure to go to university.
'Uphill struggle'
"I felt like the odd one out, especially when it came to filling out the Ucas forms.
"I fancy the idea of earning money rather than racking up debt.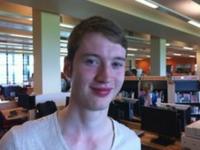 "I didn't want to spend three more years in the classroom. I wanted to get into the work place and learn career skills."
Peter Potts, 20, didn't quite get the grades he was hoping for but he has still secured his first choice place at university in Aberystwyth.
His mum died last year and he says it has been a hard 12 months.
"It brought me down for a couple of months and, with my dyslexia, it's been an uphill struggle.
"Today the dividends have been paid. I'm feeling really good."
The number of university applications has fallen 7% this year.
Students is Scotland got their Highers results last week and achieved record grades.