Swimmer Ryan Lochte to cameo in 90210 TV show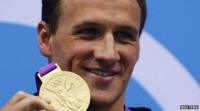 US Olympic swimmer Ryan Lochte is to appear as himself on TV show 90210, producers have confirmed.
The gold medallist will feature in an October episode where he'll cross paths with characters Naomi Clark and Max Miller.
The 28-year-old is the men's individual 400m medley champion and was also part of the victorious 4x200m relay team.
He also hinted last week that he'd be interested in appearing on US show Dancing with the Stars.
"Team USA are all stars in our book," said 90210 producers Patti Carr and Lara Olsen.
"And we're so excited he's making an appearance on the show."
The swimmer will run into the two characters, Naomi and Max, as they take a holiday to try to sort out their relationship.
"We only wish the episode was a surf event so we could have gotten him in the water, but he deserves a little rest on dry land," added the producers of the high school series.
Ryan Lochte also told America's Today programme last week that he was moving to Los Angeles from Florida and was interested in making other TV appearances.
"I'm definitely looking towards Dancing With the Stars and The Bachelor, so we'll see what happens," he said.
The swimmer also picked up two silver medals and a bronze at London 2012.
His Olympic career includes medals won at the Athens and Beijing games.
Lochte's appearance on 90210 is scheduled to go out in America on 28 October.