Lady Gaga accused of wearing fur by animal rights group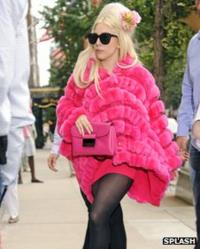 Lady Gaga has been accused of wearing fur by an animal rights group after previously criticising its use.
Peta claims she has been photographed recently in fox and rabbit.
The organisation has written an open letter to the US singer on its website asking her if she is still against the use of fur or whether she did not realise it was real.
Lady Gaga has replied on Twitter but did not clear up whether she had been wearing fur or not.
She said: "For those press and such who are writing about whether or not my fur is actually real, please don't forget to credit the designer Hermes. Thank you."
Peta said it had praised Lady Gaga in the past after she told Ellen DeGeneres on her show in 2009 that she was opposed to people wearing fur.
Senior Vice President of Peta Dan Mathews wrote in a blog post: "Many of your gay fans, I among them, have long admired what you told Ellen: 'I hate fur and I don't wear fur.'
"Recent photos of you in fox and rabbit and with a wolf carcass make it appear that you have amnesia.
"What happened? Are your stylists telling you that it's fake, or are you a turncoat?
"Please tell us whether what you gracefully told Ellen was heartfelt or just a pose."