Ed Sheeran duet included on new Taylor Swift album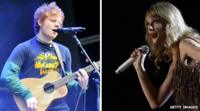 Taylor Swift has confirmed that a duet she recorded with Ed Sheeran will be on her new album.
During a live web chat with fans, the country star revealed that her fourth studio record is called Red and will be released on 22 October.
"Ed Sheeran is one of my favourite people in the world," she said. "He's so cool and he's such a great artist.
"We wrote a song while sitting on a trampoline that we loved so much that we ended up recording it as a duet."
As well as Ed Sheeran, Red features collaborations with other artists, producers and songwriters, unlike 2010's Speak Now which was written entirely on her own.
'Intense frustration'
Speaking from Nashville, Tennessee, Taylor Swift explained the themes behind the songs on the new album.
"They're all pretty much about the kind of tumultuous, crazy, insane, intense, semi-toxic relationships that I've experienced in the last two years," she said.
"All those emotions spanning from intense love, intense frustration, jealousy, confusion, all of that, in my mind all those emotions are red.
"There's nothing in between. There's nothing beige about any of those feelings."
The album has 16 songs, including the title track.
Introducing her new single, she said: "It's a really romantic song that's to my lovely ex-boyfriend."
Swift also revealed that she had spent the past few months working on a new world tour.
Taylor Swift has sold more than 22 million albums since the release of her self-titled debut album in 2006.
Her 2008 track Love Story made it to number two in the UK singles chart and she has won six Grammy music awards.